2Ship has Hold for Pick Up and Drop Off Locations feature – Couriers Please is our first Australian Carrier to use this feature
Ecommerce Delivery Challenges
In today's fast-paced retail environment, a growing portion of shippers are turning to ecommerce as a way for them to grow their sales and offer greater convenience to their customers. However, as many participants in the ecommerce process, including the carriers are finding, there are new challenges to overcome regarding the cost effective and timely delivery of ecommerce packages.
Notably common issues that arise are deliveries that are difficult to reach private residence locations, or recipients not being home to take delivery leading to repeated attempts to deliver the shipments which add time and considerable costs to the shipping process. In response to these challenges some carriers have started offering an Authority to Leave (ATL) service where packages are left at a safe place based either on a default basis or an opt in basis. However, this is not a silver bullet because not all destinations have a safe place to leave the package if the residence is unattended and either items must be re delivered or returned, or worse, they are left and go missing.
Hold for Pick Up and Drop Off Location
To address these issues some carriers have introduced a Hold for Pick Up and Drop Off Location to provide a secure and attended place to leave the parcel. Couriers Please, an Australian based carrier that specialises in B2C deliveries is affiliated with a network of approximately 2000 shops around Australia. Places like pharmacies, petrol stations, or news agencies provide a business address where the package can either be dropped off by the sender or collected by the recipient.
Hold for Pick Up offers a convenient and efficient way for customers to receive their online purchases without having to wait at home for delivery or worry about missing a delivery. These locations provide a safe and secure place for customers to pick up their online purchases, which eliminates the risk of lost or stolen packages. In addition, these locations often have extended hours, making it convenient for customers to pick up their packages at a time that works best for them.
By eliminating the need for home delivery, retailers save on shipping costs and customers save on shipping fees which is an added benefit of reducing shipping costs for both the customer and the retailer. Moreover, hold for pick up locations can provide an opportunity for retailers to build customer loyalty. By offering this service, retailers show that they value their customers' time and convenience, which can lead to repeat business and positive word-of-mouth recommendations.
In addition to the benefits of Hold for Pick Up and Drop Off Locations have also become increasingly important for Reverse Logistics and access to shipping options. Reverse Logistics refers to the process of returning a product to the retailer or manufacturer after the sale has been made.
Drop Off Locations provide a convenient option for customers to return items they no longer want or need, without having to wait for a pick up. This can lead to a smoother and more efficient return process for both the customer and the retailer. These Drop Off Locations can also offer access to a wider range of shipping options for customers.
For example, customers may be able to drop off their returns at a location closer to them, reducing shipping costs and transit time. This can be especially important for customers who live in rural or remote areas, where access to shipping options may be limited.
Couriers Please Hold for Pick Up and Drop Off Locations
Given these considerable benefits for both carriers, shippers, and shoppers we are delighted to confirm that 2Ship in Australia now offers a quick and simple access to Couriers Please Hold for Pick Up and Drop Off Locations right from within the Ship screen.   
Once this option is set in the 2Ship Settings, the shipper:
Opens the Sender Address and is presented with the option to toggle the 'Ship from Carrier'.
Several fields then appear where the shipper adds the postcode location, and then the maximum distance they are prepred to travel to, from that postcode
The shipper clicks on the 'Show' button and all the Couriers Please popshop locations within the vicinity are shown in a separate window list.
From here, the shipper selects the desired popshop and the address is populated in the Sender's box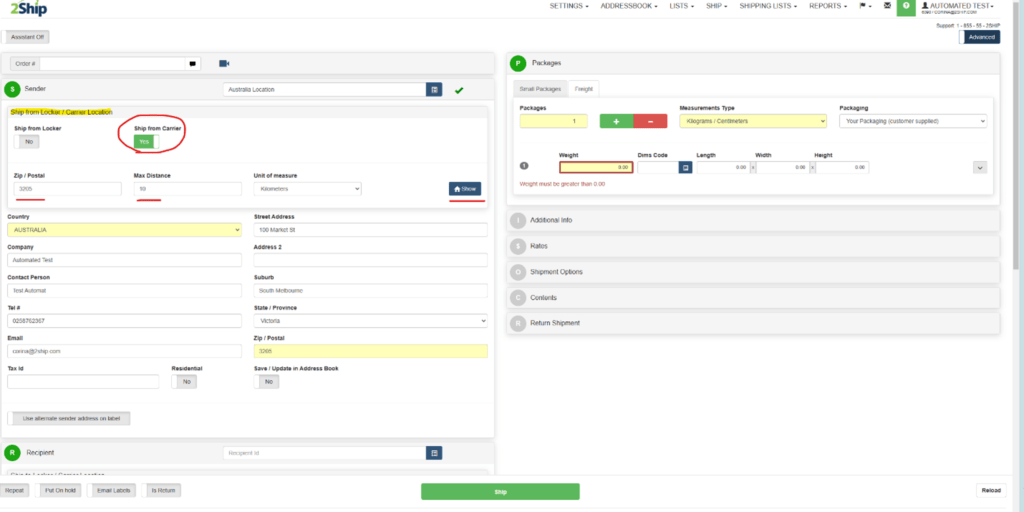 The shipper then confirms that address by click on 'Use as Sender' and that's it; they can move on to the recipient address.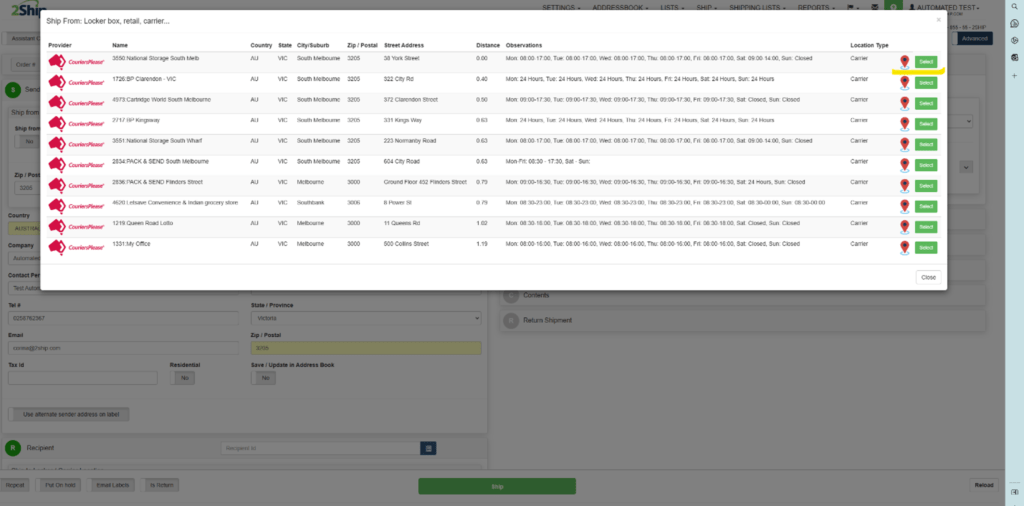 Here is the Ship to Location: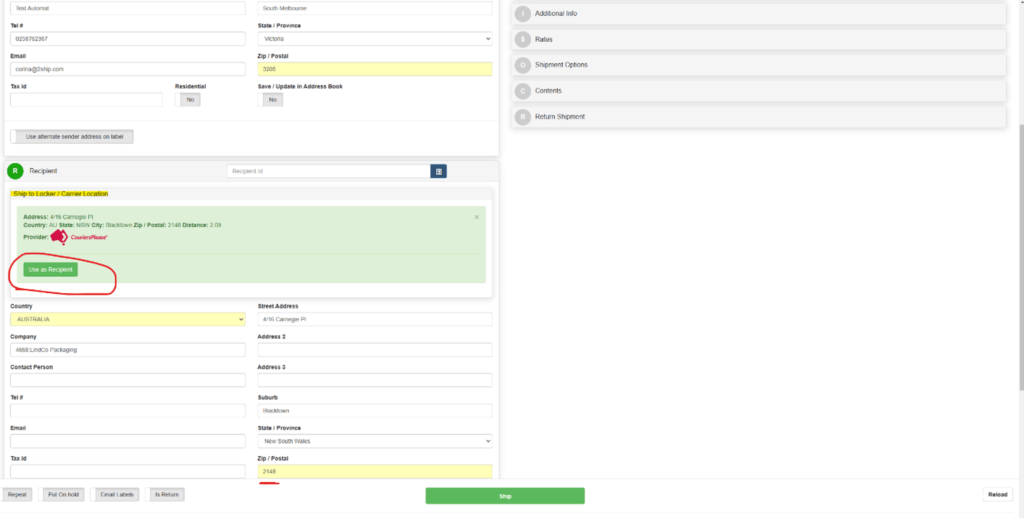 As you can see, this process is very quick and intuitive and allows the shipper the opportunity to easily send the packages to a Couriers Please Popshop without taking any additional time over what a normal shipment might take. Further good news from 2Ship is that this location-based shipment is built right into 2Ship, and therefore it can be used for any carrier for International or Domestic shipments that supports a list of locations via their API integration.
In conclusion, Hold for Pick Up and Drop Off Location plays a crucial role and are a valuable option for ecommerce shoppers. They provide a convenient, secure, and cost-effective way to receive online purchases. By offering this service, retailers and carriers can enhance their customer service and build customer loyalty.
If you'd like to learn more about this feature please contact us to discuss.